This was a modern home we built in 2015. It was designed by Tom Bartoo of Method Architecture. It combined post and beam style construction with modern architecture. We are happy with the way this project turned out. The owner was great to work for and the architect designed a great home.
Details

Written by

ArtisanTony

Hits: 517
**UPDATE: We have a realtor now! Contact them here rebhomeshop.com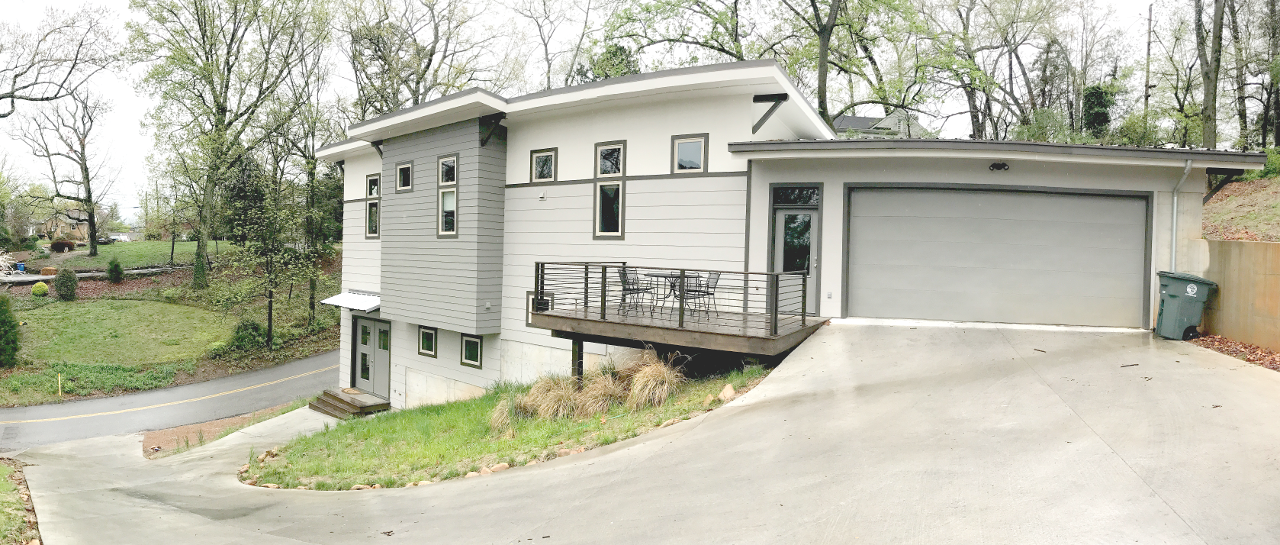 Our current home is my most favorite to date. I wanted to try my hand at modern design and I must say I did a great job :) It is now for sale. Please see the description below for details.
The home has 4 bedrooms and 4 baths. It also has an office and shop on the first floor. The shop can be used for a play room, exercise room or for whatever your heart desires.
The home has a gross square footage of 4,092 with 3,208 square feet heat and cooled space. The garage has a large 18' door and is 884 SF. Large enough for 2 full sized vehicles with storage. The home has gas heat with a gas tankless water heater. The home is super energy efficient as a call to local utilities will verify.
Do not fear the driveway. It is not as steep as first appears and a few trips up and down and you will be glad the house is designed for easy access to the main level with only a few steps up from the garage. This is rare in North Chattanooga homes.
You can contact us here. Just click on the contact form and request a call.
Details

Written by

ArtisanTony

Hits: 652
We are excited to have this design-build project for sale. It will be a modern design in the quiet neighborhood of Stuart Heights in Chattanooga, Tennessee. If you are serious about buying a quality home in a cool neighborhood, contact us! Early birds get to choose finishes!
Details

Written by

ArtisanTony

Hits: 439
This was a 5,000 SF home on the Tennessee River that we finished in the summer of 2017.
It is a traditional stucco, Mediterranean style home with
many modern features. I will add photos as we rebuild the website.
Details

Written by

ArtisanTony

Hits: 425
I started my venture into the construction industry in 1978. Over the years I have developed what I call the "Artisan Philosophy," which is basically a set of best practices for the construction industry. If you would like to become one of our valued customers, contact me here. The photograph below is of me at the age of 19, and I still have that Estwing hammer.
Details

Written by

ArtisanTony

Hits: 366